The burger that serves you.
The burger that saves big.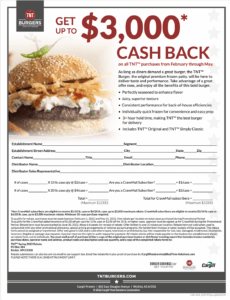 For a limited time, get up to $3,000* cash back on all TNT™ Burger purchases.
The TNT Burger puts a juicier, more flavorful, easy-to-execute burger on your menu. Discover two incredible varieties that deliver fresh-from-the-grill taste and superior performance: the TNT™ Original and the TNT™ Simply Classic.
Even better? When you order TNT Burgers you can save with major cash back. It's as easy as 1-2-3:
1. Download and complete the coupon form.
2. Attach your original or scanned proof of purchase.
3. Mail or email in for your rebate!
Haven't tried TNT Burgers yet? Request a cutting today.
*Non-CraveMail Subscribers: $2 off 10 lb. case; $4 off 20 lb. case up to $2,000. CraveMail Subscribers: $3 off 10 lb. case; $6 off 20 lb. case up to $3,000! To subscribe, sign up here.