Build
Your Burger I.Q.
Understand what initiatives drive burger sales to better build a more effective burger menu.
We don't just fill your customers' cravings with great tasting burgers, we fill your appetite for learning more about how to boost your burger sales.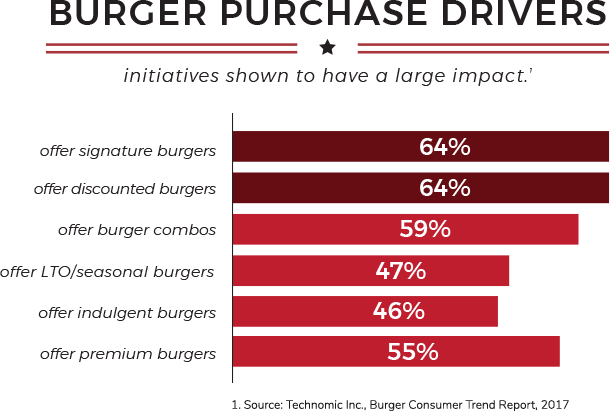 Marketing a premium burger allows you to demand a more premium price.

What makes consumers think "premium?"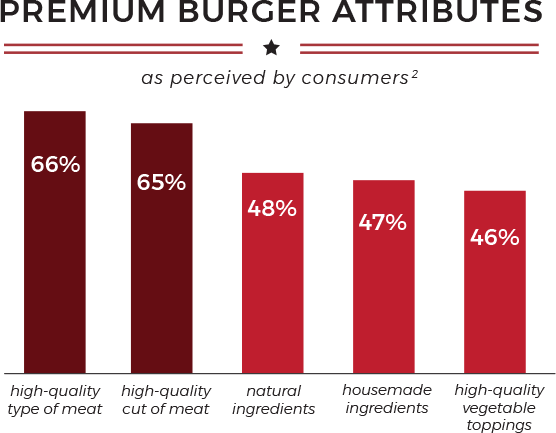 Key areas of opportunity3:
Improving the value perception
As burger prices rise, operators must convey value, either through affordability or premium ingredients that justify higher prices.
Value meals are more common at QSR than fast-casual burger chains; fast casuals may feel pressure to make price a more significant part of the value equation as competition grows.
Utilizing a barbell value strategy with both standard and premium burgers at varied prices can help broaden appeal.
Add more housemade to your menu
Bringing preparations in-house adds menu appeal – consider housemade sauces, handmade breads, pickled vegetables.
An effective way to differentiate with housemade fare is to create products that feature local, seasonal or clean ingredients.
Consumers are willing to pay slightly more for items made in house. Advertise items as "housemade", "handmade", "locally sourced".
Building the Right Burger Portfolio
Crafting a burger menu that produces a stellar bottom line takes careful planning.
Use these tips to build a multi-tiered strategy that delivers big flavor and high margins.
Dig into the numbers
Do you know which burgers are your all-stars, or what your profit margins are across your lineup? The secret to maximizing profitability is in the numbers.
Research your past-year burger sales results, and pinpoint which items are driving profits. This means knowing the total cost of each offering, down to the individual inputs, as well as their markup percentages. Eliminate concepts with low margins or poor performance, and set benchmarks to gauge future results and guide decision-making going forward.
Master your markup
A 300% markup is an unwritten rule of the industry. However, your pricing must fit your brand promise and the value your customers seek. Evaluate your portfolio to make sure you're getting your burgers' worth—especially for your signature items.
Portion control is one trick to managing profits. Pre-made, premium frozen patties, such as TNT™ burgers, make portion control easy and also minimize prep and labor, while letting you charge a little extra for a higher quality burger experience.
Stay price competitive
Visit local restaurants and their websites to learn how your competition is pricing their menus. Pay special attention to the burgers that are similar to your offerings and adjust your prices if necessary.
Implement a tiered burger patty strategy
The idea of a multi-tiered strategy is threefold. First, build a core portfolio of patties that also give you menuing flexibility. Second, optimize inventory and storage with a minimal number of SKUs that have maximum applications. Finally, better manage your customer's expectations.
Appetizers – Starters are often geared toward affordability. A slider-style patty offers bite-size and pennywise appeal, and the versatility to craft winning, beefy signature apps—burger or not.
Kids' menu – What's most important for kids' menus? Child-size portions and parent-friendly prices. Sliders are a great fit for kids' needs. It's worth noting that today's youth are more open to adventurous tastes. Try clever burger creations, such as a Pizza Burger Slider built on a pretzel bun, or BBQ Burger Bites made from cubed burger patties, melted cheese and barbecue sauce, all wrapped in a crescent roll.
Mainstream burgers – For your tried-and-true creations, TNT patties provide a balance of great taste, menuing versatility and a price point that fits your margin goals.
LTOs – Craveable limited-time offerings demand higher price points, but you should rarely need to bring in a unique SKU for these short-lived creations. Be sure the patties you select for your mainstream and high-end burgers will suit your future LTOs, to help you preserve your markup.
Read more
Options that leverage burgers' craveability yet provide a new twist or meet an on-trend demand can help burgers stand out amongst the crowded burger field and compete with emerging chains serving unique fare.
Indications point to consumers demanding unique burgers with novel flavors. Menus that highlight more themed burgers as well as over-the-top LTOs are certain to grow in popularity.4
2, 3, 4. Source: 2017, Technomic Inc., Burger Consumer Trend Report
Get uniquely simple LTO ideas here