Don't just set the table. Set the trend!
Burger trends are ever evolving. Satisfying changing consumer demands means beginning with a dependably consistent patty that ensures top-quality flavor, texture and aroma. The rest is up to you and your imagination. Create and customize on-trend burgers with a variety of toppings and condiments for offerings that set your menu apart.
We continue to keep you up-to-date with insights into how you can create a more profitable burger menu.
Burger consumption is driven by 18- to 34-year olds who may seek different burgers for different occasions.1 And giving your burger menu more differentiated fare can help boost burger sales.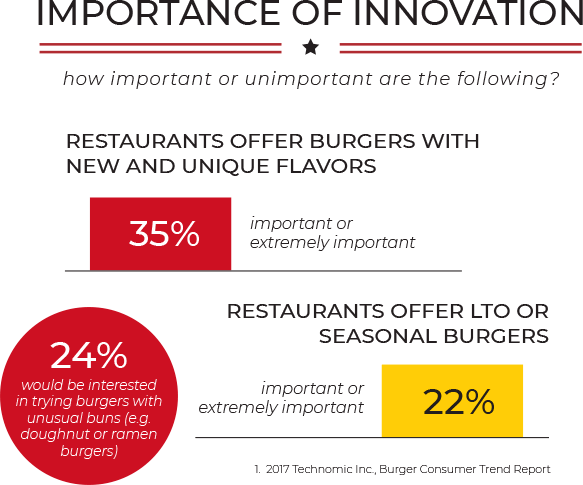 The LTO
Burger Boom
More burger chains will innovate their concept and drive restaurant traffic with limited burger offerings targeted to a specific region or consumer segment.
Local and seasonal ingredients, uniquely themed burgers and exclusive, highly limited availability will help drive appeal.
Opportunity
Restaurants will also turn to burger LTOs because of imminent menu labeling laws, which do not apply to LTOs. Brands will have more flexibility when it comes to ingredient nutrition and will likely offer more indulgent, over-the-top LTOs to appeal to cravings.2
The Power of LTOs
Limited-time offers (LTOs) are a hallmark of success in the restaurant world. Restaurants of all sizes and kinds leverage LTOs to stir up buzz and sales.
FOMO and why LTOs work
The secret to why LTOs can create excitement and boost your profits lies in another acronym: FOMO. This is the "fear of missing out."
We humans are plagued by the anxiety of missing something special. It's this "get it before it's gone forever" urgency that fuels the success of LTOs and explains why they can be a boon to your bottom line.
A consumer favorite
Consumers love LTOs. In fact, 31% of 18- to 34-year-olds consider it important and extremely important for restaurants to offer innovative LTOs*.
Explore and experiment – LTOs give you your own testing ground for new, trending flavors and formats without committing to changing your menu. You'll gain insights into what's a hit with your customers, so you can keep your burger offerings fresh and build menu appeal.
Appeal to seasonal tastes – Tempt customers with the flavors of the season. Win big with a pumpkin burger LTO in the fall. Give a cranberry turkey burger a go during the holidays. And in the summer, consider a Hawaiian burger topped with ham and pineapple.
Keep your seats full – Give your biggest fans a reason to come back again and again—and lure in new customers, as well. Play to their FOMO with irresistible flavors and imaginative concepts.
Make your menu stand out – LTOs can be key to differentiating your restaurant from the one down the street. Leverage your flexibility as a more nimble establishment to churn out desirable dishes, capitalize on trends and outmaneuver major chains.
Get people buzzin' – Chatter matters—and you can pique interest in your burger menu with LTOs. Offer a totally unique concept that begs your customers to tell their friends.
Source: 2017 Technomic Inc., Burger Consumer Trend Report
Read more
Explore more irresistible LTO recipes
Globally
Inspired Burgers
48% of those aged 18 – 34 say they find ethnic or themed burgers appealing
35% say it's important for restaurants to offer burgers with new and unique flavors
Opportunity
Put a Mediterranean spin on an American icon with an olive-oil-toasted focaccia, crumbled goat cheese, Roma tomatoes, carmelized onions, and arugula—ingredients you may already have on hand.
Keep the southern European/Middle Eastern burger theme going with Greek yogurt-based spreads, Italian mostardo (spicy mustard mixed with sweet fruit), dukka spice rubs, or harissa-flavored mayo.
Embrace the season by topping burgers with a variety of grilled vegetables supercharged with global flavor boosters like herb de Provence, ancho chile powder, smoked paprika, dried ginger, even jerk seasoning.
Trending Flavor
With Millennials coming of age and technology offering instant access to new information, cultures and experiences, it's no surprise that authentic ethnic ingredients are in hot demand on menus. Asian cuisine is especially booming in popularity. Add some Korean flavor to your burger offerings.
Tastes of Korea
Heat up the ketchup – mix a little gochujang, a chili soybean paste, into your traditional ketchup for a spicy burger spread. Whip up an addicting dip – thin out some gochujang and puree with softened golden raisins for a dip that's great with burgers and fries. Spin a kimchi slaw – kimchi by itself may not suit your guests' palettes, but a coleslaw with a hint of this Korean staple is hard to turn down. Try on a kalbi marinade – soy, sesame, garlic and sugar produces a succulent flavor profile perfect for a BBQ sauce or glaze.
Read more
What's The Next Big Thing:
Ethnic-inspired burgers continue to drive burger sales. Consider burgers that feature such ingredients as jalapeno jelly, sweet jalapeno mayonnaise, fried pork rinds with bread offerings like bolillos.2
2. 2017 Technomic Inc., Burger Consumer Trend Report
Burger
Topping Trends
How toppings are making burgers even more desirable.
More consumers now than in 2015 rank topping quality and taste as the most important burger attributes, aligning with the growth of more premium toppings like brisket and aioli.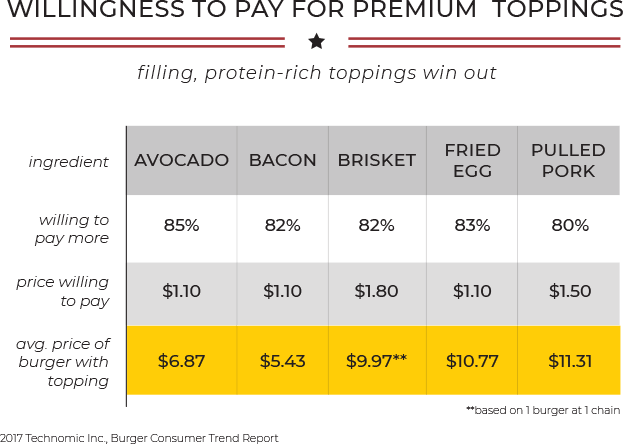 Providing variety is key to appealing to consumers.
Utilizing unique toppings is a great way to appeal to younger consumers who seek out customized burgers.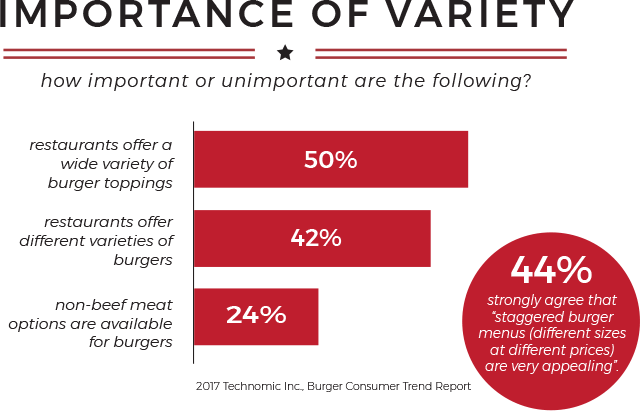 Offer trending cheeses
to convey more variety.
While American and cheddar are still prominent favorites, other cheeses are quickly on the rise.